Photometric Lighting Design

Photometric Lighting Examples:
RLLD Photometric Of A New Harley Davadison Dealership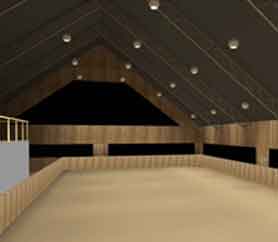 Commercial Lighting Photometric Analysis & Design.
Obtaining a photometric lighting report on your client's property is a good first step to take toward ensuring maximum efficiency of the lighting system you install and maximum long-term client satisfaction with the operability and overall aesthetic impact of that system. Photometric analysis software, unfortunately, is often far outside the price range of small lighting design firms and independent electrical contractors. Typically, only larger lighting design and electrical firms have the budget to purchase photometric analysis software and to train their employees in its proper use. Smaller companies and sole proprietors are at a significant disadvantage when it comes to proposing new equipment—that is, unless they can find a partner company who has photometric analysis software that can generate reports for them.
This is precisely why RLLD Commercial Lighting offers photometric lighting analysis reports to our clients. We aim to give the independent contractor and the small lighting design company a competitive advantage in a marketplace too often dominated by large firms. Using this software, we can create one or more reports on your client's location that will enable you to select the very best luminaires for your client's new system. Such factors as facility and landscape square footage, vertical cube space, and the general layout of your client's facility is input into our photometric analysis software first. This data is then used to generate foot candle charts and photometric reports that pinpoint the very best locations to install lighting fixtures. These reports can then printed either as technical spec sheets and as user friendly documents complete with pictures and general descriptions for end user review. Having a document like this to show to your client adds power to your proposal, and shows your client that you have thoroughly understood their needs and done your homework in response.
For indoor lighting design, photometric analysis software allows us to work on a room by room basis. You can have us run different scenarios through the system according based on either hypothetical luminance levels or fixtures in the room. We can also try different angles for fixture placement and vary lumens levels within the 3-D model to identify potentially dark areas created by light levels and inadequate placement. Understanding where objects in the room may cast shadows helps not only determine what types of luminaires you will need, but also pinpoints the best angles of incidence from which to install them.
Because we supply luminaires from a number of different manufacturers (all based in the United States), it is important to consider all possibilities before making a final choice. What may be the best fixture to use in a small, stand alone office building may not be the best choice for a multi-building site location or corporate office park. Every manufacturer offers unique fixture designs and energy efficiency safeguards, and lamp life varies as well between the various proprietary designs.
Our software actually contains manufacturer's spec sheets and engineering documents on specific fixtures in different categories. We can generate a luminaire comparison report instantly that details optics, lumens per watt efficiency, and expected lamp life. Cross referencing light levels and fixture placement reports with specific data on each fixture made by a leading US lighting manufacturer hones the effectiveness of the photometric analysis to a razor-edge precision.
While we do charge a fee for photometric analysis, we refund the amount in full should you move forward in a business relationship with RLLD Commercial Lighting and purchase your equipment from us. Casual inquirers and companies seeking adjunct support are nonetheless welcome to call us and purchase a report to use in any project and are under no obligation to buy commercial lighting products in conjunction with the report.
RLLD Commercial Lighting carries a wide variety of industrial & commercial lighting fixtures. If you can not find what you are looking for call us toll free at 1-866-654-3961 and we will find it for you. Our home office is located in Houston, Texas with warehouses located throughout the United States that enable us to service all 50 states including like Ft. Lauderdale, FL (FLL), Orlando, Florida (MCO), Santa Monica, CA, (LAX) Columbus, Ohio (CMH) (LGA) New York, NY, (JKF), St. Louis, MO, Detroit, Michigan (DTW), Madison, WI (MSN), San Francisco, California (SFO), and Omaha, Nebraska (OMA)
Back to main topic: Commercial Lighting Design