Rodeo & Horse Arena Lighting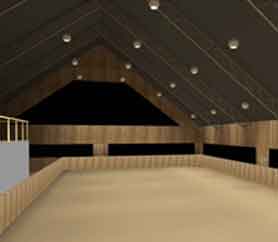 Horse Arena Lights & Equestrian Horse Track Light Sales, Consultanting & Sports Arena Lighting Design Services.
RLLD Commercial Lighting recommends using metal halide fixtures for horse track lighting and rodeo arena lighting whenever possible. This is because MH lighting fixtures fall into the category of high intensity discharge lights, also known as HID, and produce an exceptionally bright, white light with excellent color rendering. Freelance electricians and lighting design contractors can rely upon RLLD Commercial Lighting to add value and competitive advantage to their proposals by giving them access the world's top commercial grade metal halide fixtures which are rapidly becoming the mainstay in equestrian horse track lighting design and rodeo arena lighting retrofits. Contractors who use us as a vendor can expect to have a powerful competitive advantage over other consultants who may not have access to our vendor contracts and are forced by limited resources to fall back on retail grade flood lights and second-rate MH fixtures that do not feature the level of sophistication and long life our products are known for.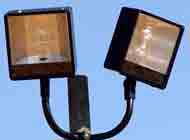 Electricians contracted by an equestrian center can often create both a superior aesthetic and generate savings for their clients by using metal pole mount adapters and MH box floods to install new fixtures to existing lighting poles around the arena. Normally this does not require rewiring the existing system, so labor rates are lower and insurance liability is also reduced due to a lower risk of damage to electrical components. Equestrian facility managers may remember how previous contractors were able to install lights that were inexpensive and easy to mount and may not want to invest a large deal of money even if it is in a much needed upgrade. By using our mounting accessories and complimentary design consultation services, contractors can offer a competitive price and still light a rodeo arena or horse track with fixtures that feature the latest designs in internal reflectors that force the light toward the arena without creating glare or spill light in the process Benefits of this level of technology become even more readily apparent in an urban setting where dark sky laws strictly prohibit light pollution in neighboring business and residential areas.
Back to main topic: Athletic & Sports Field Lighting