Architectural Lighting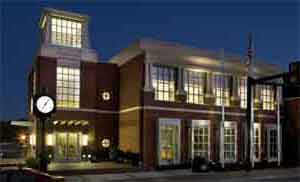 Architectural Lighting
General contractors, engineers, architects, and commercial lighting designers have a much easier time selecting appropriate architectural lighting equipment when they work with RLLD Commercial Lighting. As an impartial distributor representing multiple manufacturers, we can offer small companies and even sole proprietors direct access to vendor contracts that would otherwise be out of their reach. These contractors enjoy a great freedom of choice when choosing architectural lighting fixtures, mounts, poles, and accessories because we are an impartial vendor and are not required to fill any specific quota for the manufacturers we represent. Consequently, our clients will never be pressured into buying architectural lights from any one particular manufacturer. Instead, our specialists will help each client meet any design challenges and lighting regulation requirements needed to design a site lighting system, and then recommend the fixtures, lamps, and mounts most appropriate to the needs of the project at hand.
Architectural lighting specialists at RLLD Commercial have been cross-trained in a number of disciplines which allows them to strategically balance the major considerations of safety, regulations, aesthetics, and site security when helping clients of any type develop a site lighting design. Foremost in our thinking is helping contractors and engineers recession proof their projects by building ROI into the purchase order. We look for ways to increase lumens per watt efficiency by carefully helping clients choose the best lamps, optic designs, and ballasts for optimal lighting output and stable regulation of current. We also have a rapidly expanding inventory of LED architectural lights that stand poised to replace other types of lamps completely in the near future. This emerging technology can cut power usage by as much as 80% and offers additional benefits of longer lamp life and maintenance free, environmentally friendly operation.
Dark sky laws strictly regulate the amount of glare and potential light pollution that can be produced by architectural lighting. In order to avoid violating these codes, and to avoid generating complaints from neighboring business and home owners, it is wise to consult with an RLLD Commercial Lighting specialist familiar with the laws of a given area. This will both familiarize you with legal requirements, and offer you the added benefit of an expert who not only knows the facts, but also knows which fixtures which will offer the highest level of compliance combined with optimal performance.
Armed with this information, we can guide the general contractor, designer, civil engineer, and even sole proprietor into a whole site architectural lighting design.
Our lighting experts know which building lights will compliment architectural keynotes without overpowering its façade or shining unwanted glare into other buildings. Building facades are very important because they often bear the company brand. Many industrial buildings paint their logo on the side of their warehouse. Our diversity of wall-mounted architectural lights, sign lights, wallpacks, and canopy lights makes it possible to keynote each of these building features without light spillage or excessive expense.
Architectural Landscape Lighting
Landscape lighting systems should work to extend the themes established by architectural light into the general landscape and create a sense of unity between human structures and Nature. This can also serve as a form of security lighting, because shadows often pool around building corners or courtyards between buildings. Keeping these areas well-lit minimizes the opportunity for burglars or vandals to approach the building unseen.
Parking lot lights should be selected based on wind load requirements in your area and foot candle minimums required by law. Dark sky laws must also be carefully considered to determine which fixtures will best produce a glare free luminance contained within facility boundaries with no light spillage falling into surrounding streets and neighborhoods.
Vertical footcandles play just as crucial of a role as horizontal footcandles when it comes to parking garage lighting. Vertical luminance is essential to the depth perceptions drivers rely upon to safely navigate around obstructions within the garage. Determining the balance between vertical and horizontal footcandles more often than not requires special software that smaller companies may not be able to afford. These companies can gain equal footing with larger firms by letting RLLD Commercial Lighting input data into our software to produce a proposal that reflects mathematical accuracy and precision selection of lamp wattages and fixture placements.
The complexity of architectural lighting systems can quickly add up to a very costly expenditure that is often beyond the budgets of smaller organizations. Low voltage equipment and fluorescent fixtures can be used in many of these settings to reduce power costs, and as LED lights continue to emerge, even more power savings can be generating by replacing traditional high pressure sodium and Metal Halide fixtures. For the convenience of contractors, licensed DYI lighting designers, and smaller organizations on tight budgets, RLLD Commercial Lighting also offers architectural lighting packages consisting of a blend of basic equipment and specialty equipment that can be customized to any site lighting scenario.
RLLD Commercial Lighting experts stand ready to assist the client and the serious inquirer on a complimentary basis both through online channels and phone-based advisory services. General inquiries can also expect a high level of attention and expertise for a small, reasonable consulting fee.
Architectural Lighting Applications:
Retail/Big Box
Grocery Store Lighting
Airport Lighting
Security Lights
Parking lot Lighting
Commercial Garage Lighting
Retail Store / Business Lighting
Car Dealership Parking Lot Lights
Residential & Roadways Street Lighting
Gas Station Canopy Lights
Lowbay Industrial
Highbay Industrial
Aircraft Hangars
Food Processing
Hazardous Locations
Indoor Sports & Outdoor Recreational Lighting
Sign Lighting, Gooseneck/Billboard Lighting
Outdoor Commercial Landscaping Lights
Lecture Halls
Convention Centers
Site Lighting
Commercial Warehouse Lighting

| | |
| --- | --- |
| Displaying 1 to 5 (of 5 articles) | Result Pages: 1 |

Below is a list of articles with the most recent ones listed first.

Exterior Architectural Lighting
Exterior Architectural Lighting Fixtures Designed Using Photometric Software are a must to compliment natural and architectural aesthetics with luminaires whose fixture designs reflect the geometric themes and subtle nuances of surrounding structures and landscapes.

Architectural Landscape Lighting
Developing an architectural landscape lighting system that will remain true to this intention without costing additional money down the line requires a great deal of planning and research.

Architectural Lighting Design
Architectural Lighting Design To stay on top of today's increasingly regulated and competitive marketplace of architectural lighting design, you must focus on service beyond customer service.

Architectural Outdoor Lighting
Architectural outdoor lighting is a form of site lighting with a touch of elegance, class, aesthetics, or complimentary design that uses fixtures and strategic angles of incidence to compliment building architecture and landscaping.

Architectural Area Lighting
Architectural area lights feature an aesthetic component that differentiates them from the purely functional fixtures used in typical site lighting. Although the lamps used in both architectural area lighting and site lighting are often similar.


| | |
| --- | --- |
| Displaying 1 to 5 (of 5 articles) | Result Pages: 1 |