Outdoor Security Lighting Products Keep You Safe!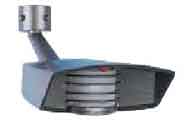 Commercial Outdoor Security Lighting
Outdoor security lights are essential components to commercial site lighting systems. By dispelling shadows around parking lots, adjacent landscapes, walkways, and building wall areas, you can minimize the risk of criminal invasion, burglary, or violent attack. This does not have to cost a lot to effectively accomplish, either. Large levels of light are not really necessary for outdoor security. The human eye adjusts to darkness and actually magnifies the amount of physical light present. This is known as "perceived light." Outdoor security lights need only create enough perceived light to eliminate dark pockets of shadow, thus making the ground and surrounding structures clearly visible from all angles. This will enable any on duty security personnel to quickly spot an intruder, and it will also provide enough light for on-duty staff to see intruders who might attempt to approach them.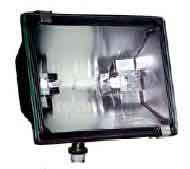 The most important element of outdoor security lighting in commercial environments is light distribution. Because office buildings and office parks tend to have more structural variance than the typical residence, it is necessary to make certain that, regardless of lighting levels, all surfaces are adequately lit and that there is plenty of vertical light shining on the sides of walls, buildings, fences, walls, and other outdoor structures. By comprehensively lighting the grounds with at least some level of light, cost effective outdoor security lighting can provide a first line of defense against criminal mischief.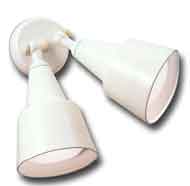 It is also vital to use specification grade outdoor lighting fixtures and floodlights whenever you install a security lighting system. Glare and light pollution are strictly limited by law in most cities, and neighboring residents do not want light shining in their windows during all hours of the night. You can minimize glare and light pollution by installing fixtures that are shielded and directed downward. This helps to create a self-contained field of luminance that keeps the building and property well-lit but prevents the light from spilling into the rest of the neighborhood.
Any number of lights sources can be used as commercial outdoor security lights. Virtually any type of architectural building lights functions at least on a secondary level as a security light because it lights the roof, walls, windows, and doors of the building from all angles of approach. Clients who are on a budget might be intimidated by the perceived costs of lighting several buildings. Reassure them that this can be done efficiently and cost effectively with fluorescent fixtures whenever energy savings is a high priority. One very popular method of lighting a building is to use a combination of fluorescent canopy lights and wallpacks. Fluorescent lamps cost much less to operate and provide excellent lighting levels and color rendering that result in clear visibility around building edges.
In the past, halogen and mercury vapor lights were used almost exclusively in outdoor security lighting. This was before concerns of global warming and hazardous waste triggered fears that the contents of these lamps would be detrimental to the environment. Mercury vapor lights are quickly disappearing, and incandescents have been banned by recent legislation and must be replaced no later than 2010. As a result, many companies are now investing in new outdoor security lighting fixtures both to prepare for the impending ban on incandescents and to save costs on power bills as fuel—and therefore energy costs—continue to mount. HID lamps are now becoming the preferred lighting source for outdoor security systems, featuring ballasts that regulate electron flow for maximum conservation of power and increased lumen per watt efficiency ratings that allow more square feet to be lit with fewer watts of power than that previous technologies required.
If your clients want flood lights controlled by motion sensors installed, explain to them they have to options. They can either go with pulse on Metal Halide lamps or fluorescent lamps, both of which offer competitive advantage over previous halogen floodlights. With these new fixtures, the entire security lighting system not only works better from a functional standpoint, but it is now fully compliant with all relevant codes and ordinances governing electrical usage, glare control, and light level intensity.
RLLD Commercial Lighting carries a wide variety of industrial & commercial lighting fixtures. If you can not find what you are looking for call us toll free at 1-866-654-3961 and we will find it for you.
Back to main topic: Security Lighting