Parking Garage Lighting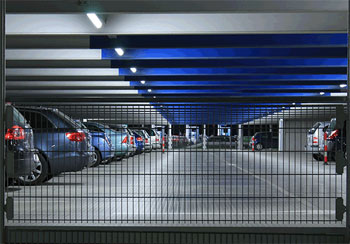 Parking Garage Lighting
Ideally, parking garage lot lights should create five foot candles per square foot both horizontally and within the vertical cube itself. While many developers pay very close attention to horizontal foot candle levels, vertical lighting is actually more important. A person looking at a poorly lit column, wall, or oncoming vehicle will not be able to clearly distinguish its boundaries and may also have problems gauging its distance from his or her location. Lighting between parking spaces is also important because it eliminates shadows that could hide intruders or criminals.
Calculating these measurements often represents a very time consuming aspect of parking garage lighting. Sometimes, it even requires special software that smaller companies may not have access to, or be able to afford. This is where RLLD Commercial Lighting specialists can offer an added value. With basic data such as parking garage dimensions, total square footage, and general usage statistics, we can help the contractor save a step by calculating the levels of light that a parking garage needs for optimal safety and functionality.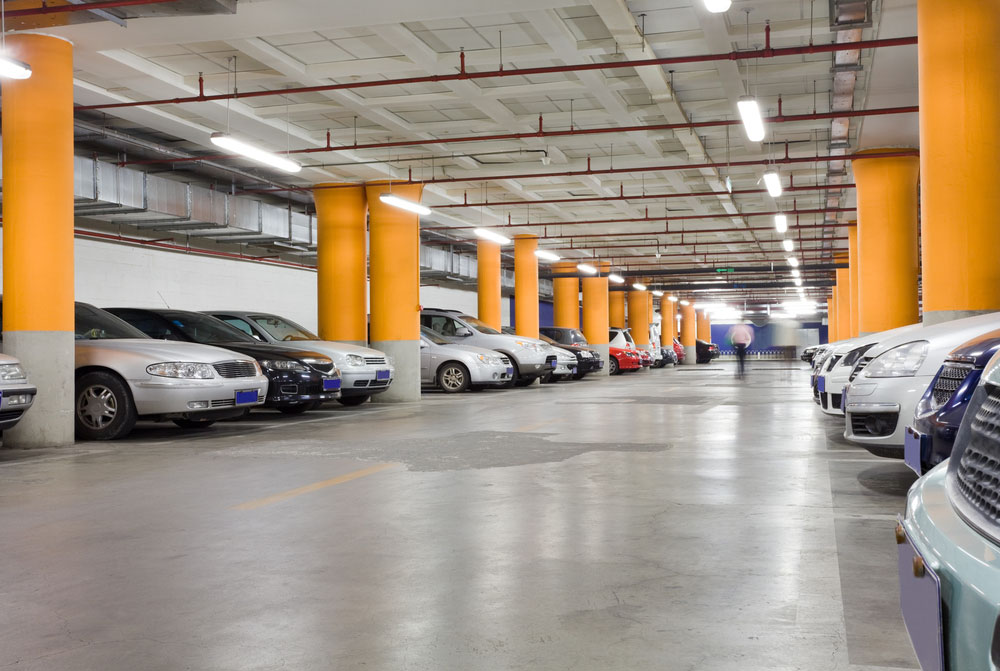 Once the quantity of light needed has been calculated, it is necessary to also determine the quality of light needed. There are two major obstacles to overcome when lighting parking garages: glare and the "cavern effect". The cavern effect is a phenomenon where the garage actually looks darker than it really is, contributing to distorted depth perception and affecting the judgment of drivers and pedestrians. Glare is a major obstacle as well to clear visibility and occurs when the lighting in a particular area is noticeably brighter than surrounding general lighting. Both of these can create hazardous conditions if not proactively countered by proper selection of fixture design and proper placement of fixtures within the facility.
The most common parking garage lighting fixtures are high intensity discharge lights, or HID lights. RLLD Commercial Lighting recommends using Metal Halide and High Pressure Sodium HID light fixtures in semi cutoff or refractor designs. Cutoff fixtures have too many drawbacks and with very rare exceptions make for rather poor parking garage light fixtures. While they are very good at keeping glare to a minimum, they actually magnify the cavern effect and render very poor vertical lighting. Semi cutoffs do a very good job of eliminating the cavern effect altogether, and with the proper fixture, will also do a very good job of lighting basic vertical surfaces such as walls and thick columns. For optimal vertical lighting and clear visibility, you should use refractor parking lot lighting fixtures. These keep the ceiling areas, vertical cube, and parking areas consistently lit throughout. Their only disadvantage is the possibility of glare if the wattage selected is too high. If you are unsure which wattage to choose, rely upon an RLLD Commercial Lighting expert who will help you calculate exactly how much power you need per the dimensions of your garage.
Parking garage lighting fixtures can house Metal Halide lamps, High Pressure Sodium lamps, or fluorescent lamps. Choosing a lamp type is just as much a matter of preference as it is of practical function and operating budget. HPS lamps last the longest but render color very poorly. Industrial facilities with little concern for aesthetics might want to go with HPS simply because it will help minimize replacement costs. Metal Halide lamps are excellent for corporate parking garage lighting because they give off a clear, bright light and can actually create an upbeat atmosphere with a light source nearly equivalent to daylight in quality. Due to their short lamp life (7,500 hours), however, MH lamps may not be the best choices for smaller companies who are feeling the bite of the recession. These organizations may want to consider fluorescent lamps instead. Fluorescent lamps have the best color rendering, the longest lamp life, and the highest lumens per watt efficiency.
Because commercial parking garage lighting is so complex, and because no two facilities are exactly alike, RLLD Commercial Lighting offers free consultation services to clients and serious inquirers, and reasonable fee-based advisory services to casual inquiries. With access to software tools that many smaller contractor firms may not have, and with vendor relationships with the world's top fixture manufacturers, we can offer the small architect or builder the resources of a larger company at no additional cost.
RLLD Commercial Lighting carries a wide variety of industrial & commercial lighting fixtures. If you can not find what you are looking for call us toll free at 1-866-654-3961 and we will find it for you. Our home office is located in Houston, Texas with warehouses located throughout the United States that enable us to service all 50 states including New York NY, Los Angeles CA, Miami, FL. Chicago, IL. Denver CO., New Orleans, La., Cleveland, Ohio, Kansas City, Mo., Mesa, Arizona, Virginia Beach, Va., Omaha, Nebraska, Oakland, California, Miami, Florida, Tulsa, Oklahoma, Minneapolis, Minnesota, Colorado Springs, Colorado, Arlington, Texas, Beaumont, Texas, Denton, TX, McKinney, Texas, Midland, TX, Killeen, Texas, Dallas TX, San Antonio, TX, Austin, TX, ALBQ, NYC, LA, MPLS.
Back to main topic: Outdoor Commercial Lighting