Parking Lot Lighting
Shop our Online Catalog:
---

New! LED Parking Lot Lighting Fixtures.

New! Solar Powered LED Parking Lot Area LIghting.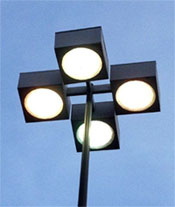 Parking Lot Lighting. Decorative Commercial Parking lot Light Poles, Fixtures, Accessories, Photometric Lighting Design Services & LED Light Fixtures.
As a general rule, it is best to use American made parking lot lighting fixtures for garages and lots. The quality controls mandated by multiple layers of government, and the warranties that major US manufacturers back their products up with, are unsurpassed in most of the world. Using American made parking lot lights also offers your client the best engineering, maintenance, and replacement options available on a domestic and local level. It helps ensure that parts can be maintained and expeditiously replaced if something does go wrong, because we are dealing with domestic entities who can deliver parts in a timely manner without the complications of overseas shipping.
By following a few basic principles of parking lot lights recommended by RLLD Commercial Lighting, you can quickly determine what your client will need and choose fixtures from any number of US light fixture manufacturers. The following points are a few things to keep in mind that will make the process easier for both you and your clients.
Most cities mandate that parking lot lighting be evenly distributed at 3-4 foot candles throughout the lot.
Many businesses might not be aware that their parking lot lighting levels have fallen below minimum levels. This happens when lamps deteriorate over an extended period of time. When this happens, lighting levels become uneven and pockets of shadow form. Adjacent areas of brightness distort perspective, and drivers find it difficult to accurately judge distances. Pockets of shadow form when foot candles drop below acceptable levels and become dangerous potential hiding places for vandals and assailants.

This will chart where foot candle levels need to be improved to overcome problem areas of shadow, and it greatly help in choosing fixtures that provide optimal directional placement of lighting into parking areas where obstructions are present or where the facility features and irregular design.
Back to main topic: Outdoor Commercial Lighting



| | | |
| --- | --- | --- |
| | Contact Us | |
| | | |
| --- | --- | --- |
| | Products | |
| | | |
| --- | --- | --- |
| | Articles | |
| | | |
| --- | --- | --- |
| | Information | |