Tennis Court Lighting


Accomplishing Your Tennis Court Lighting Goals:
One of the most important goals of your new tennis lighting system is the ability to see and follow the ball consistently across the court. Properly designed tennis court lighting fixtures are typically forward throw fixtures which have precision optics or cut off characteristics which maximize light levels and minimize glare from the field of view.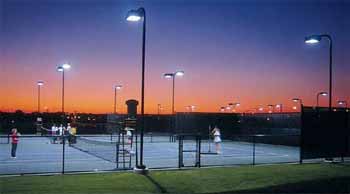 Identify Your Tennis Court Layout:
One of the first things in selecting proper tennis court lighting is to identify the size and layout of your court.
Understanding the Lingo of Tennis Court Lighting:
The quality of the light is best understood by learning some basic lighting terms known as Foot-Candles and Color Rendering Index.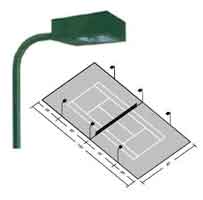 Foot-candles are defined as the measurement of light output in candela per square foot. It derives from the early English unit of foot-candle defined as the luminance on a surface placed one foot from the standard candle. For most residential tennis court lighting projects a level of 60-75 average foot candles is considered a minimum and 75-100 average foot-candles is sufficient for most applications.

Color Rendering Index or (CRI) is defined as how well a light source renders color as compared to daylight. This can only be used to compare light sources with the same color temperatures. A CRI of 100 would indicate the light renders the same as daylight at the same color temperature. A CRI in the upper 90's is considered the best assurance that the light source will render all colors properly. A 1000 watt Metal Halide source has a CRI 0f 65.
Tenon

- An arm-like projection shaped for insertion into a sleeve or light fixture.

Lamp

- A source of light. Also known as a light bulb.

HLD

- A High Intensity Discharge lamp (i.e. Mercury Vapor, Metal Halide, High Pressure Sodium).

Ballast

- A device that starts and controls electricity for H.I.D. and fluorescent lamps..

E.P.A.

- A number system which determines how many fixtures and accessories may be placed on a pole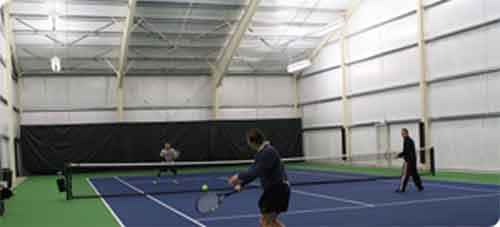 Tennis Court Fixture Mounting Methods:
In tennis court lighting you have low-mast and high-mast pole configurations to consider when making your selection. Most residential tennis court lighting is low-mast lighting and high mast lighting is used in areas where higher light levels are required. Low-mast systems used in conjunction with sharp cut-off luminaries produce good uniformity, low glare, reduced amounts of spill light and are relatively easy to maintain. Click here to learn more technical information about the poles we sell and which one is right for your area.

Periodic Tennis Court Lighting Maintenance:
All sport lighting fixtures should be cleaned periodically to maintain good performance. When cleaning the lenses use a damp cloth to eliminate static electricity and the accumulation of dust on the lens. Always wear gloves when handling the lamp since oil from your hands can significantly reduce their efficiency and average lamp life. You can lose up to 30% of the useful light if you don't clean your fixtures regularly. It's a good idea to change your lamps at 75% of their rated life to maintain optimum light levels. The average lamp life for a 1000 watt metal halide lamp is 10,000 hours.
Concrete Footings and Base Covers:
The amount of concrete needed will depend on many factors. The size of the pole and the soil content of your installation site are two important aspects that structural engineers consider when determining the diameter and depth of the concrete footing. A 20 foot pole generally requires a footing with a diameter of 18 inches and a depth of 4 feet.
The base cover is a square and measures 4" in height, so the anchor bolts should protrude 3 3/4" above the concrete footing.
RLLD Commercial Lighting carries a wide variety of industrial & commercial lighting fixtures. If you can not find what you are looking for call us toll free at 1-866-654-3961 and we will find it for you. Our home office is located in Houston, Texas with warehouses located throughout the United States that enable us to service all 50 states including New York NY, Los Angeles CA, Miami, FL. Chicago, IL. Denver CO., New Orleans, La., Cleveland, Ohio, Kansas City, Mo., Mesa, Arizona, Virginia Beach, Va., Omaha, Nebraska, Oakland, California, Miami, Florida, Tulsa, Oklahoma, Minneapolis, Minnesota, Colorado Springs, Colorado, Arlington, Texas, Beaumont, Texas, Denton, TX, McKinney, Texas, Midland, TX, Killeen, Texas, Dallas TX, San Antonio, TX, Austin, TX, ALBQ, NYC, LA, MPLS.

| | |
| --- | --- |
| Displaying 1 to 3 (of 3 articles) | Result Pages: 1 |

Below is a list of articles with the most recent ones listed first.

Tennis Court Lighting From The Experts At RLLD
Talk to our experts about your sport court needs. We have extensive experience in Tennis Court lighting designs and installation. Call 1-866-654-3961 for details.

Tennis Court Lighting Is An RLLD Specialty
Tennis court lighting is an RLLD specialty, and we can provide a turnkey solution for any space, in any setting. Setting up this form of illumination is a challenge, as there are usually homes or offices nearby, none of which can be disturbed by intense glare. RLLD thoroughly models every installati...

Tennis Court Lighting Equipment
Tennis court quipment & supplies should include lighting fixtures for your playing area.


| | |
| --- | --- |
| Displaying 1 to 3 (of 3 articles) | Result Pages: 1 |