Concrete Lighting Poles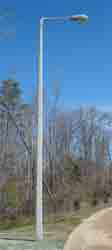 Concrete Lighting Poles
Cement or concrete lighting poles have experienced a recent surge in popularity among property developers, civil engineers, architects, and general contractors. People have begun to realize that concrete, in spite of its reputation as a purely industrial substance, can be transformed into a lighting pole that in all respects is aesthetically superior to carbonized steel and more resistant to erosion, collision, and vandalism. The wide range of decorative styles, colors, and diversity of geometric designs make concrete lighting poles one of the most versatile items to add to a proposal or site development plan, and the extra strength they offer makes them a recession proof, maintenance free investment that will outlast steel and wood for decades. RLLD Commercial Lighting inventories an enormous variety of designs, styles, mounts, and heights to anticipate the many needs of parks, sports facilities, educational institutes, research facilities, corporate office parks, churches, and retail centers.
Concrete or cement light poles offer a number of competitive advantages over carbonized steel that benefit both the contractor and the client. Cement lighting poles are easier to install, and they can be mounted in either the ground itself, as we often see in university campuses and public parks, or they can be installed in base mounts bolted to concrete. This makes them exceptionally versatile and more appropriate for environments where natural terrain and human architecture are intermingled. For instance, a country club often has elaborate landscaping in front of the club house, through which a driveway runs leading up to the clubhouse. Portions of this landscape may feature sidewalks or a rotunda area with seating around a small fountain. Concrete poles featuring the same basic model design and finish color, but measuring different heights, can be used to light both the roadway and the landscape with an aesthetically harmonious and more balanced presentation than carbonized steel poles would generally offer.
This blend of function and visual décor is critical for high-end lighting projects where an establishment's image and presentation is tightly intertwined with its function and purpose. The greater range of decorative freedom offered by concrete lighting poles makes them appropriate additions to the landscapes and parking areas around any facility known for sophistication and fine taste. Architects designing museums, five star hotels, fine restaurants, and resorts can match certain architectural keynotes to the geometric patterns reflected in our many pole designs. In some cases, this works to extend certain themes prevalent in building architecture into surrounding general site lighting. This is a very effective way of establishing an atmosphere of authority and power around certain structures such as school administration offices, government buildings, military headquarters, and courthouses.
Because concrete poles do not rust, they do not need to be replaced like corroding metal poles. The concrete used to make light poles is much stronger than steel, and it is also stronger than the typical concrete you walk on. It is actually compacted concrete which is cast at high temperatures around a steel core. As the material cools, it compresses into a sturdy, flexible mount that is capable of withstanding higher winds speeds than other types of lighting poles. In fact, the law requires that lighting poles that are over 50 feet in height must be made from concrete. Metal—even the strongest of carbonized steel—cannot guarantee stability in high winds at this altitude. Concrete light poles are the only options in these environments, which is why sports, theme parks, and public recreation areas use concrete lighting poles to ensure full compliance with AASHTO, ACI, ASTM and UBC loading requirements.
Finally, because the surface of compressed concrete is so hard, it is also virtually impossible to deface, so areas prone to heavy vandalism should strongly consider the cost effectiveness of something that will withstand even a deliberate attempt at sabotage. If you or your client would like more information about the benefits of concrete lighting poles, call an RLLD Commercial Lighting specialist. Serious inquiries and clients receive complimentary consultation, and casual inquiries can be answered for a small, reasonable fee.
RLLD Commercial Lighting carries a wide variety of industrial & commercial lighting fixtures. If you can not find what you are looking for call us toll free at 1-866-654-3961 and we will find it for you. Our home office is located in Houston, Texas with warehouses located throughout the United States that enable us to service all 50 states including like Ft. Lauderdale, FL (FLL), Orlando, Florida (MCO), Santa Monica, CA, (LAX) Columbus, Ohio (CMH) (LGA) New York, NY, (JKF), St. Louis, MO, Detroit, Michigan (DTW), Madison, WI (MSN), San Francisco, California (SFO), and Omaha, Nebraska (OMA
Back to main topic: Parking Lot Lighting