Hotel Conference Room Lighting Project In New York

Custom Hotel Conference Room Lighting System Packages.
Let us Design, Specify Or Quote any size Lighting Project For You.
Contact Us Toll Free 1-866-654-3961
Hotel Conference Room Lighting Project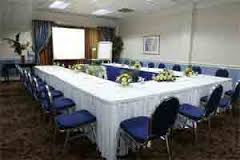 Our client was a large hotel on the East Coast looking to completely replace the existing lighting system in one of their conference rooms. The conference room had recently been renovated creating a clean, open space that could be setup for a variety of functions. With the addition of tables, chairs, benches, or formal dining tables, the conference room could be used for a variety of occasions and special events in addition to seminars and business meetings. The problem was that as soon as renovations were complete, hotel management quickly realized that the conference room had now outgrown the capabilities of its primitive fluorescent lighting system, and that it would require a more advanced source of light in order to attract rentals for all the many events for which it could now be used.
In order to accommodate the complexity of this project, we first asked the hotel to send us a list of the various room orientations that they envisioned.
Dinner parties, seminars, group therapy sessions, and business presentation meetings were all included on the very extensive list we received from the client. This indicated to us immediately that we would need to install more than one source of conference room lighting in order to fulfill all of the client's expectations. We would also need to create multiple switching points to create different layers of light in different portions of the conference room. Mood setting was not the primary goal here, but practical use instead. There were a number of shows coming to town that featured products and activities that tended to attract an older audience. The conference room lighting would need the brightest and most energy efficient lights to host events such as coin shows and other product showcases where detail and high visibility were of the utmost concern. There was also a need for superior color rendering, so another layer of lighting from a halogen source would be necessary to make certain that people could clearly distinguish colors when looking through merchandise.
The conference room also had a small stage where speakers and musical guests periodically performed.
The hotel asked us if we could install stage lighting here. Stage lighting equipment is not our normal forte, but we told the hotel we would commit ourselves to developing a solution as part of the overall conference room lighting system.
We simply could not have done this project so effectively without our photometric software.
Using IES files on a number of different fixture options, we were able to model dozens of hypothetical lighting scenarios for the conference room's many possible uses. This allowed us to develop not only a precise equipment list for the hotel, but more importantly, a plan for lighting control in the conference room that would allow management to change the levels and type of light in the conference room quicker than they could change the setup.
We ended up installing a blend of fluorescent and halogen lights on multiple switching points and dimmer controls.
For the bright, general lighting that would be required for trade shows, we installed 2X4 T8 fluorescents controlled by on/off switches. For indirect lighting, we installed wall sconces along the sides of the conference room. This would provide just enough lighting for AV presentations. Finally, to create a light source that would allow the conference room to be used for everything from motivational speaking to formal dining events, we installed a series of halogen recessed lights over the stage and throughout the room.
This new system now allows event coordinators to either turn all lights on at maximum capacity when high foot candle levels were required, and to turn off fluorescent lighting and precisely adjust incandescent sources and sconces to lighting levels specifically appropriate to respective functions.
Back to main topic: Indoor Commercial Lighting Projects