Hyatt Tent Lighting Project In San Antonio

Custom Interior Lighting Packages
Let us Design, Specify Or Quote Any Size Lighting Project For You.
Contact Us Toll Free 1-866-654-3961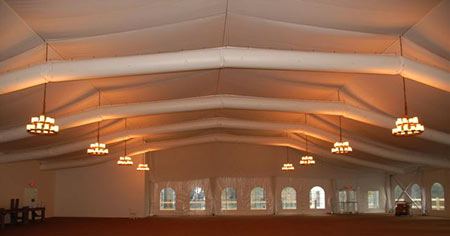 Tent Lighting Project: Hill Country Hyatt Multi-Use Tent Lighting Project Project
The Hill Country Hyatt multi-use tent lighting project was one of our more unique projects to date. In this joint venture, we acted solely as distributors working in partnership with a Houston-based lighting design and electrical contract services company known as Illuminations Lighting and Design.
The Hill Country Hyatt, located in San Antonio, TX, had hired Illuminations Lighting to design and install a new lighting system for a rather challenging structure they had constructed on their property.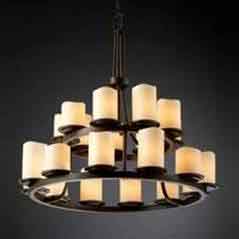 This structure was a 5,000 square foot semi-permanent climate controlled tent. The tent was constructed because occupancy had exceeded the limits of the current tennis facilities, and a new structure was needed to cover the tennis court slab and handle overflow guests at the hotel. The advantage this new structure offered was that it could also be used for other functions as well, such as golf tournaments, wedding receptions, Movie Theater, business functions, galas, gold tournaments, and many other uses.
The hotel had decided to construct a semi-permanent structure first, measure the success of the activities and revenue generated, and then they would decide whether or not they needed to build a permanent structure in the future.
In order to create space for this tent, the hotel had uninstalled the tennis court lighting poles and nets, and they hired a landscaping company to help blend the structure into its surroundings. As part of the construction project, the tent builder had installed 400-watt high bay lights to illuminate the interior. These lights performed poorly from both a functional and aesthetic standpoint. The space resembled a garage, not a multi-use gathering place.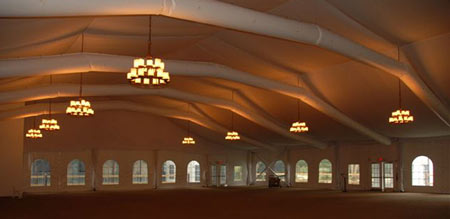 Illuminations Lighting and Design was contracted to develop and install a new tent lighting system. They contacted us for a 3D model of the proposed system they designed, and to order all necessary equipment. We acted promptly on behalf of ILD, publishing a photometric layout, a 3D rendering of the proposal, and explained the features, advantages, and benefits of the new equipment to the hotel owners.
The proposal met the intended budget of $20,000 (installed) and included (10) rustic chandeliers that featured 21 Lamps, a 2 ring design, and 10' of sturdy chain per chandelier. ILD also installed a Lutron dimming system for setting light levels. Because the tent was built for multiple, separate uses, switch legs and circuits had to be installed to allow for custom switching and dimming. When the client approved the proposal, we then worked closely with Justice Lighting Group to hammer out all the details of the order, including finish, style, proper chain extension, and critical lead time for delivery of equipment to job site to make certain the equipment arrived on time.
As we previously noted, RLLD acted strictly as a distributor on this project. The owner of ILD, impressed with how efficiently we worked with his organization, had this to say about RLLD Commercial Lighting:
"They quickly quoted and shipped the chandeliers from the factory, straight to the jobsite. They arrived on schedule and without any issues. As a specialty lighting and electrical contractor, staying on schedule means the customer is happy and the job is profitable. I will certainly be using RLLD for other residential lighting and commercial lighting projects."
RLLD Commercial Lighting has a wealth of such resources and product knowledge that can help any client or specialist organization choose the right fixture for the job. RLLD assists contractors, owners, architects, and end users in locating and purchasing the correct lighting equipment to use on their projects. RLLD can also handle the sale, lead time notification, order tracking information, freight and shipping coordination, and financing for purchase of all lighting equipment we carry.
RLLD Commercial Lighting carries a wide variety of industrial & commercial lighting fixtures. If you can not find what you are looking for call us toll free at 1-866-654-3961 and we will find it for you. Our home office is located in Houston, Texas with warehouses located throughout the United States that enable us to service all 50 states.
Back to main topic: Indoor Commercial Lighting Projects