Industrial Lighting Design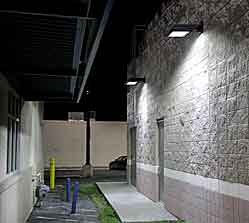 By definition, Industrial lighting design involves the systematic and detailed planning of luminance level calculations, fixture selection, and light equipment installation. This process requires the generation a photometric layout proposal that designates fixture placement locations, luminance levels, and symbols indicating the presence and nature lighting controls. More than one industrial lighting design can be made using different fixture combinations and mounting locations. This gives a client choices when making hard procurement decisions that require balancing need against budget.
Also, when it is necessary or so requested by the client, the professional lighting designer can then render this plan(s) into advanced 3D images of the proposed system(s) to illustrate exactly what the client's location will look like if and when it is illuminated by RLLD Commercial Lighting equipment.
Industries from all vertical markets, including the corporate services sector, can avail themselves of this service. RLLD Commercial Lighting will assist any organization with industrial lighting design plans that will go a long way toward efficient and expeditious purchasing.
In the public sector, manufacturers, warehouses, and retailers tend to rely a great deal upon this service as well. Manufacturers often require precise levels of glare free light for safe operations and will greatly benefit from investing in an industrial lighting design before purchasing. The same goes for warehouses, who also need specific light levels in areas where there is heavy forklift traffic alongside of heavy human foot traffic and worker activity.
Another industry that works with RLLD very consistently is the retail industry. Retail strip centers, malls, and even small convenience stores are always asking us to design their outdoor parking lot lighting systems. Our industrial lighting designs are so good at showing foot candle plots around parking lot lighting poles that stores and strip centers find it very easy to make decisions about new lighting when they look at one of our plans first.
An investment in industrial lighting design is an investment you are certain to get returns on. By planning out a lighting system first, you automatically generate significant savings by knowing in advance the exact the amounts of light needed by different parts of your facility. There will be no risk of over lighting—and thus overspending—on lighting in a parking lot or anything else on your property. You will know exactly what you need in what places, and what fixtures will meet those needs before you ever have to write a check.
Another thing we can help industries with is improved safety in work environments. Many warehouses and manufacturers have strict requirements about how much light and what type of light they can have in parts of their building where machining, assembly, and vehicle traffic is occurring. On the other hand, there are a number of places like hallways, restrooms, and storage closets that need only functional levels of light. There is no sense in paying and arm and a leg on power costs in these areas, and RLLD Commercial Lighting can save you the trouble.
It is easy to obtain an industrial lighting design from RLLD Commercial Lighting. All that you really need to do is tell us about each type of task that is performed in and around your building. This helps us address the very important demands of task lighting from a process flow perspective.
We also ask you to send us elevation plans and a plan view in AutoCAD format. Then, by combining the details of your process flow and the data you send us in file form, we will then calculate your lighting levels and determine your equipment requirements.
Every client has the option of simply buying an industrial lighting design from RLLD Commercial Lighting or buying the design and the equipment from us as a turnkey vendor of top-quality products made only in the USA. Clients who buy their light fixtures and accessories from us will have the cost of the photometric deducted from their final invoice. RLLD will help you select the very best fixtures for every detail of the plan, and we will also work with your local contractor as a consultant on retainer if they need specific technical information on the installation and configuration of our equipment.
RLLD Commercial Lighting carries a wide variety of industrial & commercial lighting fixtures. If you can not find what you are looking for call us toll free at 1-866-654-3961 and we will find it for you. Our home office is located in Houston, Texas with warehouses located throughout the United States that enable us to service all 50 states including New York NY, Los Angeles CA, Miami, FL. Chicago, IL. Denver CO., New Orleans, La., Cleveland, Ohio, Kansas City, Mo., Mesa, Arizona, Virginia Beach, Va., Omaha, Nebraska, Oakland, California, Miami, Florida, Tulsa, Oklahoma, Minneapolis, Minnesota, Colorado Springs, Colorado, Arlington, Texas, Beaumont, Texas, Denton, TX, McKinney, Texas, Midland, TX, Killeen, Texas, Dallas TX, San Antonio, TX, Austin, TX, ALBQ, NYC, LA, MPLS.
Back to main topic: Industrial Lighting