Area Lighting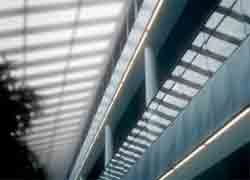 Area Lighting
Lumen per watt efficiency is the number one consideration in the design and installation of an area lighting system. As energy costs mount, new laws are now going into effect that mandate a .05 watt per square foot maximum for outdoor area lights. This requires you, the contractor, to pay closer attention to area geometry. You now have to carefully pinpoint optimal locations for fixture placement, and you have to choose fixtures that will deliver more light with less consumption of electricity.
Regulations are also tightening up glare and light pollution. Cheaper fixtures made overseas are usually incapable of shielding the eyes from glare or preventing light spillage into surrounding homes and businesses. Only top, commercial grade area lights made here in the United States can give you the assurance of full compliance with dark sky laws and the warranted protection on equipment that guarantees minimized maintenance and replacement costs for your clients.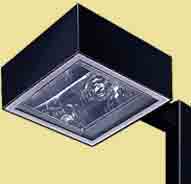 Parking Area Lights
Parking area lighting is one of the most critical elements of area lighting. It is also one of the most heavily regulated when it comes to mandatory foot candle levels and tight restrictions on the amount of glare produced by the fixtures. Higher poles tend to light larger areas, helping keep the area's overall lighting in compliance with foot candle requirements and energy efficiency codes. At the same time, you have to be careful not to use poles that are too high. Almost all cities have dark sky laws that limit pole height to a maximum height. The key to balancing these apparently contradictory legal requirements is to use. As a use cut off luminaire designs with tempered glass lenses and reflectors formed from specular facets. These parking area light fixtures are designed to keep glare at a minimum and to disperse light over greater distances. They also keep power consumption at a minimum while simultaneously increasing the total square footage they illuminate.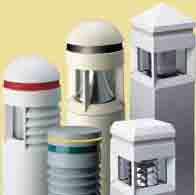 Architectural Building Lighting
When it comes to lighting the physical structure of a building, area lights have to accent the architecture without overpowering it. In order to do this, they must light only the most important features of a building instead of the entire building itself. This will curb energy expenses and eliminate light pollution, and it will also create a secondary effect of keynoting what is truly important to a particular structure with a less is more approach to luminaire installation.
Fixture positioning at optimal angles of incidence determines the overall effectiveness of building area lighting. You must hide the light source as much as possible to create a well-rounded aesthetic presentation of the building. A wide range of options in wattages, luminaire mounts, reflectors, and cut off designs are available to can be install practically any size or type of fixture in strategic locations so as to make them virtually invisible to the casual viewer.
Landsacpe Area Lighting
Much like building lighting, landscape area lighting can be implemented without extravagant expenditures on the physical numbers of fixtures required. They key here again is to highlight features of the landscape rather than try to illuminate the entire property---which for very large businesses may be dozens, or even hundreds, of acres. Pathways and decorative benches can be lit quite cost effectively with fluorescent lighting bollards. Low voltage halogen lights can be used to accent waterways, commemorative statues, ponds, and fountains. Decorative lighting posts with ornamental fixtures can be used to create historical themes or aesthetic elements in key locations without overkill or over spending.
RLLD Commercial Lighting not only provides detailed information on these and many other subjects free of charge to all of our clients, but also publishes information on new technology and industry trends to all who enroll in our online community program. Contact us now for more information.
· Industrial Parking Garage Lights
· Industrial Parking Lot Lighting
· Automobile Dealership Lighting
· Mall Parking Lights and Lighting Poles
· Equestrian centers and Racetracks
· Industrial Warehouse and Factory Lights (Both indoor and outdoor)
RLLD Commercial Lighting carries a wide variety of industrial & commercial lighting fixtures. If you can not find what you are looking for call us toll free at 1-866-654-3961 and we will find it for you. Our home office is located in Houston, Texas with warehouses located throughout the United States that enable us to service all 50 states including Sault Ste Marie, MI (CIU), Cleveland, OH, (CLE), College Station, TX (CLL), Port Angeles, WA (CLM), Charlotte, NC (CLT), Columbus, OH (CMH), Champaign, IL (CMI), Hancock, MI (CMX), Cody, WY (COD) and Colorado Springs, CO (COS).

| | |
| --- | --- |
| Displaying 1 to 3 (of 3 articles) | Result Pages: 1 |

Below is a list of articles with the most recent ones listed first.

Wall Pack Lights
Wall Packs. The best way to determine the type and number of wall packs your client is going to need is to have RLLD Commercial Lighting conduct a detailed photometric analysis of your client

Site Lighting
Because energy costs are continuing to rise, new laws are now requiring a .15 watt per square foot maximum for outdoor site lights, making it necessary to both choose fixtures that are more efficient and to pay closer attention to site geometry.

Canopy Lights
Outdoor Gas Station Canopy lighting fixtures and design provides an ideal light source for pedestrian traffic and security lighting around a building. They are heavily used by industrial facilities that operate during nighttime hours, such as factories with around the clock production.


| | |
| --- | --- |
| Displaying 1 to 3 (of 3 articles) | Result Pages: 1 |