Car Dealership Parking Lot Lighting

Car Dealership Parking Lot Lighting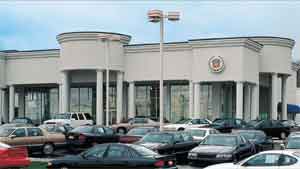 RLLD Commercial Lighting supplies new and used car dealerships with luminaires designed to complement the image of the car lot and make the facility look brighter, safer, and more chic than ever before. New fixture designs in car dealership parking lot lights will deliver a superior, more even spread of illumination throughout your lot, and custom finishes of all colors and shades will complement the look and tone of your sign and corporate logo. More optical reflectors and shield options are available now than ever before, engineered to minimize glare within your facility and to contain the light within your property line so as to avoid light pollution spilling into the surrounding neighborhood.
We supply only American-made car lot lighting luminaires featuring the latest technology and cost-cutting energy efficiency. A brief summary of each of our major light fixture types is detailed in the paragraphs below. More detailed information can be obtained by calling an RLLD Commercial Lighting designer who will help you configure the schematics of your car dealership lighting system at no additional charge.
Pole-Mounted Aluminum Car Lot Lights
This model is a good sturdy fixture for small, privately-owned dealerships. The seams are welded and silicone sealed to enable it fixture to stand up to the worst weather. Aluminum car lot lights are built with a top cap for maintenance and easy access for lamp adjustment and replacement.
You can install these lights on either standard straight poles or tapered poles with our classic arm accessory. They will also work well with a sleek yoke mount accessory. For more information on sizes, finishes, and mounting options, call an RLLD Commercial Parking Lot Lighting specialist today
Car Lot Flood Lights
RLLD Commercial Lighting supplies car dealerships with all varieties of floodlights, including Cut off flood, forward flood; standard flood, parking flood, and type V flood models. These luminaires are ideal for both perimeter security and overall aesthetic appearance. All fixtures are made from a single piece of die-cast aluminum and feature a high-temperature silicone gasket that creates a weather-tight seal. Lenses are cut from clear, heat and impact resistant tempered glass.
Shoebox Design Dealership Lights
Light pole sizes are regulated by wind-loading laws that require either poles to be a certain size or light fixtures to feature a special design. RLLD Commercial Lighting will save you money on car lot lighting poles by equipping your car dealership with aerodynamic shoebox light fixtures are designed to redirect airflow around their surfaces much like sports cars do on the road. This will enable you to use smaller, more affordable light poles on your dealership lot without violating regulatory codes.
Metal Halide Lights with 1000W Lamps
These luminaires are common in the larger car dealerships that require a high level of foot-candles. They offer a sheik design to complement the establishment and a wide variety of finishes that include both standard and custom colors.
Wall and Pole Mounted Car Dealership Lights
These lights feature a contemporary design build that gives any dealership an ultra modern look. They are an ideal complement to any lot filled with high performance and luxury vehicles. Contemporary fixtures are versatile enough to be mounted on walls as well as poles. They can be mounted on either poles or walls, and offer maintenance crews a convenient hinge door on the side of the housing that permits rapid lamp adjustment or replacement. The housing seams are welded together and sealed with silicon to protect parts from climatic extremes and rough weather.
RLLD Commercial Lighting will help you design your car dealership parking lot lighting layout and provide you with all the necessary equipment needed to put your location on the map and advertise your value 24/7. Your clients will appreciate the clarity and comfort they experience when they look at cars after sunset, and your vehicles will be clearly visible to security and local patrols throughout the night.
RLLD Commercial Lighting carries a wide variety of industrial & commercial lighting fixtures. If you can not find what you are looking for call us toll free at 1-866-654-3961 and we will find it for you. Our home office is located in Houston, Texas with warehouses located throughout the United States that enable us to service all 50 states including New York NY, Los Angeles CA, Miami, FL. Chicago, IL. Denver CO., New Orleans, La., Cleveland, Ohio, Kansas City, Mo., Mesa, Arizona, Virginia Beach, Va., Omaha, Nebraska, Oakland, California, Miami, Florida, Tulsa, Oklahoma, Minneapolis, Minnesota, Colorado Springs, Colorado, Arlington, Texas, Beaumont, Texas, Denton, TX, McKinney, Texas, Midland, TX, Killeen, Texas, Dallas TX, San Antonio, TX, Austin, TX, ALBQ, NYC, LA, MPLS.
Back to main topic: Outdoor Commercial Lighting