Commercial Vandal Proof Light Fixtures
Shop our Online Catalog:
---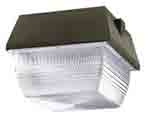 Commercial Vandal Proof Ceiling Mounted Light Fixtures
In areas where accidental impact or deliberate criminal mischief can shatter overhead lights, commercial vandal proof ceiling mount lighting fixtures offer a form of lighting whose higher impact and scratch resistance makes them extremely difficult to break, dislodge, or tamper with. Vandal proof, ceiling mount light fixtures offer schools, public buildings, shopping malls, and indoor apartments and condominiums a long-term, reliable source of lighting that will require only occasional maintenance. Many of these commercial ceiling mount lights also offer significant improvements in thermal management and energy conservation, making it possible for them to significantly lower your client's light bill.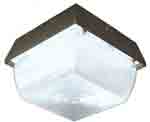 These three factors: longer lifespan, resistance to impact, and energy efficiency, make vandal proof ceiling mount light fixtures ideal for clients who are hesitant to invest in something they truly need to curb the rising costs of operations. Showing them on paper a calculated reduction in electrical costs, and showing them as well how many years the fixtures can be expected to last without having to accrue further replacement and labor costs can soften the blow of the invoice, so to speak. Your clients can see the math clearly laid out on the table. The monthly savings that compound after installing commercial overhead vandal proof lighting represents a new revenue stream that pays the company back for the cost of the equipment, and the resistance of these lights to tampering further ensures the viability of their investment.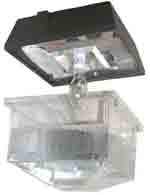 RLLD Commercial Lighting further ensures fixture lifespan not only with vandal proof design, but also commercial lighting manufacturer warranties back up in writing. Every fixture we sell, without exception, is a commercial or specification grade luminaire made in the USA. There are no retail grade substitutions in our inventory, and we refuse to import parts or fixtures from any manufacturers overseas. Clients who may be tempted to run down to the hardware store and buy commercial ceiling mounted lighting fixtures themselves, then have an electrician on staff install them, don't have to shortchange themselves on quality or compounded losses when the fixtures fail and have to be replaced. With our equipment, they can be assured that a onetime investment will carry itself through the recession, and them along with it.
RLLD Commercial Lighting offers several distinctive types of commercial vandal proof ceiling mount lights, giving you the freedom to match fixtures precisely to client needs.
Fluorescent Ceiling Mount Lights
RLLD commercial lighting ceiling mount fluorescents 26, 32, or 42-watt compact commercial grade fluorescent included. These vandal-proof, ceiling mounted lights come in either white and bronze finishes to, and they are UL listed for all regions of the United States and are ideal for small school districts and government buildings in small and mid-sized cities.
HPS Ceiling Mount, Vandal Proof Fixtures
High-pressure sodium lamps provide a compact, high output form of vandal proof lighting in cramped quarters. We have high-pressure sodium fixtures that feature a lamp life of 24,000 hours in almost every situation and lighting environment. Like their fluorescent equivalents, they are meant to operate without fail in damp and wet areas as well as dry regions of the country. Most fixtures feature die cast aluminum housing with a transparent polycarbonate refractor.
Our high-wattage and low wattage models are available to cover the full gamut of indoor and outdoor lighting needs, and all fixtures come with lamps included.
Metal Halide Vandal Proof Lights
RLLD Commercial Lighting offers quartz restrike metal halide ceiling mounted fixtures with vandal proof lens covers. These lights will immediately come back on in the event your client suffers a power failure. The average lamp life of standard models is approximately 10,000 hours. These lamps are so bright that many contractors install them as supplemental security lights. RLLD Commercial Lighting also sells Indoor low voltage equivalents offer the same essential value package with lower wattage and a longer lamp life of up to 15,000 hours.
Our specialists will help you determine which fixture types, wattages, and lamp options best meet the needs of your client by performing a full photometric analysis of your client's location. This will show us all that is necessary to determine the exact number of fixtures you will need, how much light they will have to produce, where to best mount them, and what lamps and wattages will most effectively accommodate all requirements above. The cost of the analysis will be deducted from your equipment invoice at the time you purchase the equipment.
RLLD Commercial Lighting carries a wide variety of industrial & commercial lighting fixtures. If you can not find what you are looking for call us toll free at 1-866-654-3961 and we will find it for you. Our home office is located in Houston, Texas with warehouses located throughout the United States that enable us to service all 50 states including Sault Ste Marie, MI (CIU), Cleveland, OH, (CLE), College Station, TX (CLL), Port Angeles, WA (CLM), Charlotte, NC (CLT), Columbus, OH (CMH), Champaign, IL (CMI), Hancock, MI (CMX), Cody, WY (COD) and Colorado Springs, CO (COS).
Back to main topic: Outdoor Commercial Lighting



| | | |
| --- | --- | --- |
| | Contact Us | |
| | | |
| --- | --- | --- |
| | Products | |
| | | |
| --- | --- | --- |
| | Articles | |
| | | |
| --- | --- | --- |
| | Information | |